Learn Brazilian Portuguese in a way you haven't seen before
There are many reasons to learn a language like Portuguese:
When you're with Brazilians you can understand parts of what people speak
You can consume a whole new world of media and culture
You can find your way around on your next holiday and not feel completely lost.
You can train your brain and feel how it works and gets better at language
It's something fun and interactive to do, and it's not that hard with our technology and methods.
Maybe you have already tried to learn Portuguese or another language, but had some problems. For example:
You studied for years, but when you try to speak, you feel blocked,
When you try to listen to native speakers, they just speak too fast and you can't understand a thing,
You tried to have conversations, but you were constantly out of words,
You couldn't find authentic content that was enjoyable to listen to,
You didn't know where to get started, and then didn't do anything at all,
There's good news for you: it's not your fault.
I want to introduce you to a new method, that you will understand and can even continue by yourself afterwards.
When learning in a traditional classroom, you follow a static textbook, learn some complicated grammar by heart and speak a few sentences every now and then.
However, you are never really interacting with the language!
So when you try to have a conversation with a native speaker, you have absolutely no idea what to do. You run out of words, only draw blanks, and you can't understand a single thing of what's going on.
Hi, my name is Vitor and this is my course.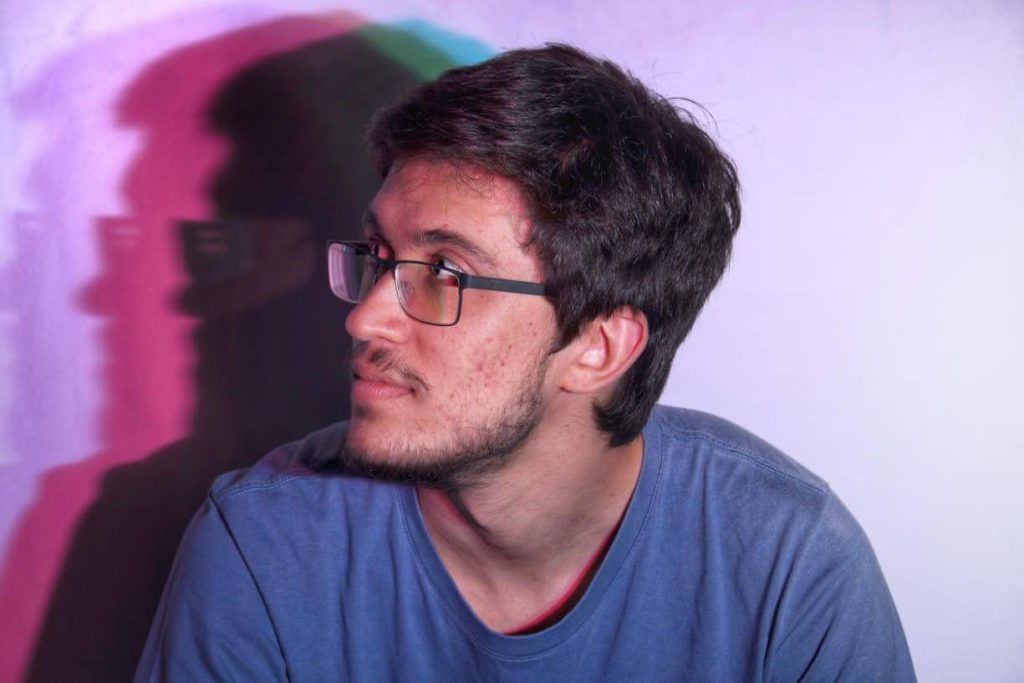 I'm a Brazilian polyglot. I've learned to speak five languages fluently and have worked as an English and Spanish teacher and also as a language mentor.
But my language learning also didn't start so well. I have learned this the hard way, but fell in love with it. And now I want to share it with others.
Before I started learning languages on my own, I studied English for 4 years in a school here in Brazil. I was a dedicated student, had good grades and participated a lot during the lessons.
Then when I met a native speaker for the first time, it was simply terrifying. I was completely frozen. I couldn't say a word. I couldn't understand anything.
It felt like I wasted so much time and money. So I stopped.
Then, I started to use English in my life, even though I wasn't very comfortable with it yet. I started watching videos, reading forums and following memes.
I was shocked! After a while of doing that, my comprehension level sky-rocketed and so did my ability to speak.
The reason? I was interacting with REAL language in the REAL world!
After that, I wanted to understand what happened with me and started to learn more about language learning. Now I speak five languages fluently, and I'm here to tell you that there's a better way to learn Portuguese.
And I want to make it accessible to everyone. I wanted to create something that I would love to have if I would start learning Portuguese myself.
How can this course help you learn real Portuguese?
My secret is listening to native speakers with clear exercises, and at the end have a real conversation to learn personalised vocabulary. It's all included in this course.
1. Develop listening skills by listening to natives from day one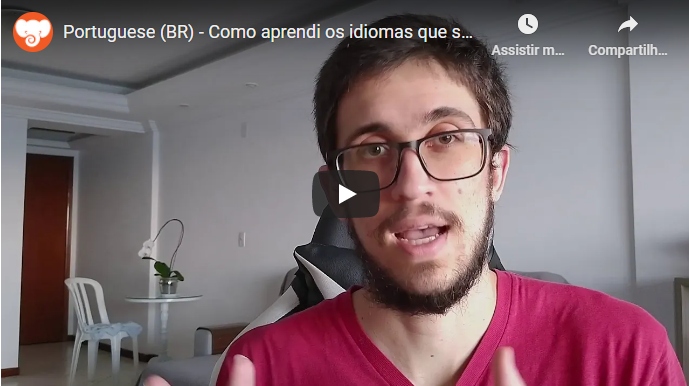 No textbook dialogue: you will listen to Brazilians speak as they speak in real life. You practice with native speed from day one, so that you have no surprises when you meet other speakers!
2. Understand every detail with the help of a transcript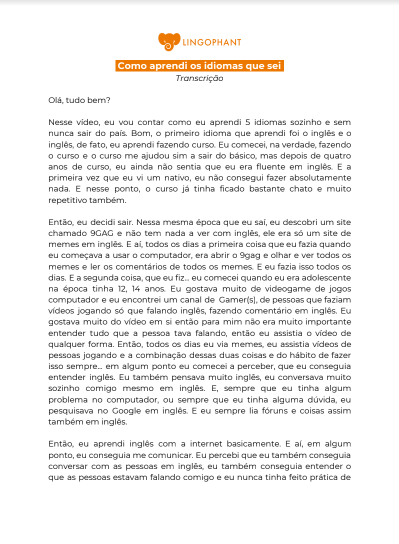 You can listen to the language more comfortably, even if you are a beginner. It will help you recognise every single word that is said, and see the relationship between the written and spoken language
3. Understand the meaning with the help of an English Translation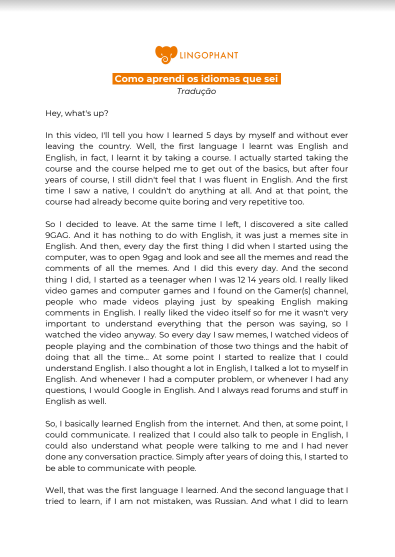 You'll be listening to the same text multiple times, and in that way start recognising loads of words. The transcript will guarantee your complete understanding and give you the satisfaction of interacting with real language from early on.
4. Lingophant flashcards with native audio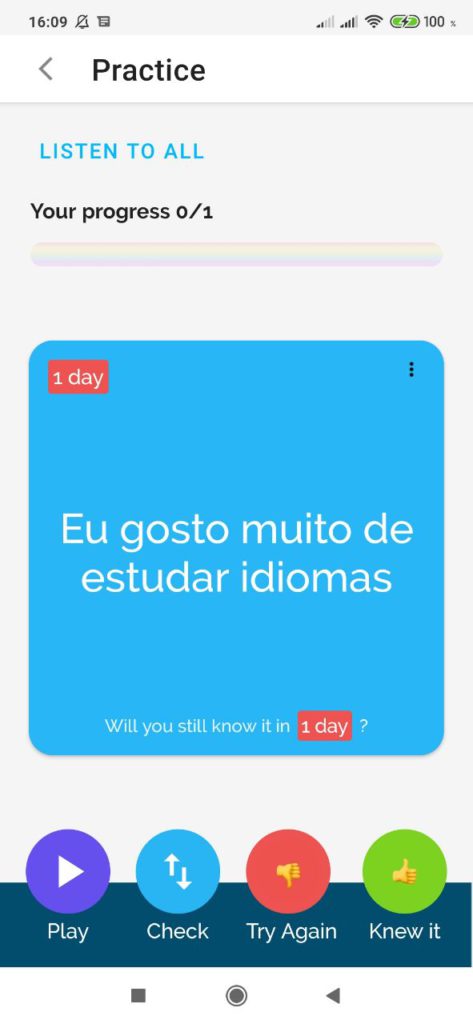 We have picked useful phrases from each video and created flashcards. Those phrases will help you take home a bunch of phrases and structures, without having to learn complicated grammar. You'll train active recall for these phrases and can build pronunciation right from the start.
5. (Optional) Join one of our Lingo Sessions and I will host a Portuguese session for you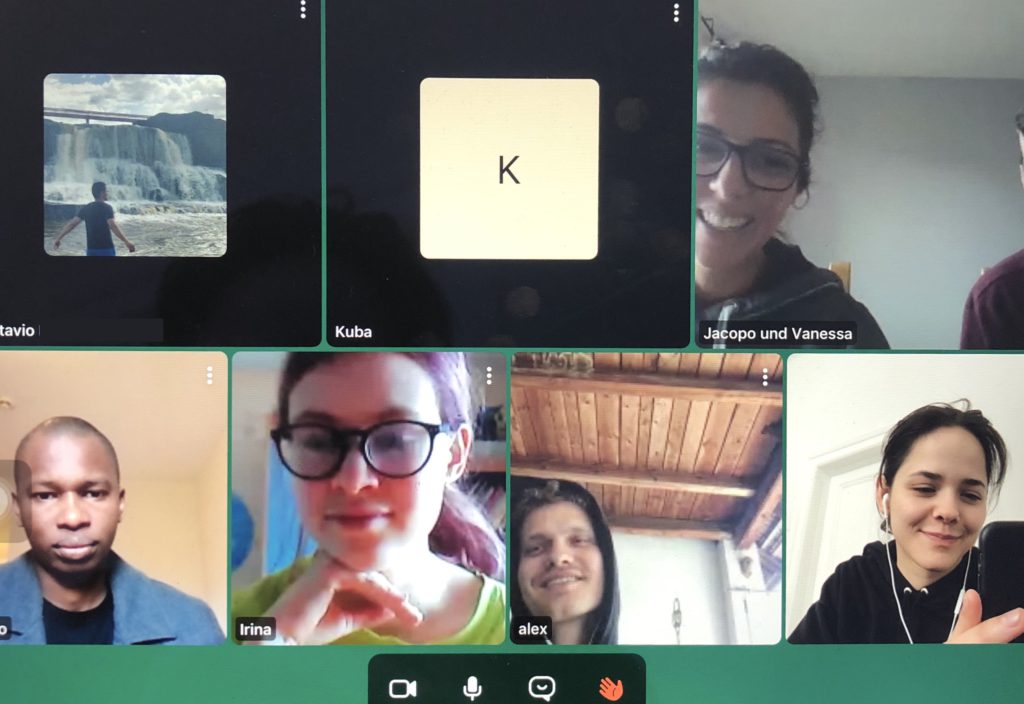 Whenever you feel ready, you can join one of our Lingo Sessions and will host a Portuguese Session for you. A Lingo Session is basically a language exchange that is powered up by our app! You can sign up here
6. (Optional) Have your first conversation with a native speaker (me!)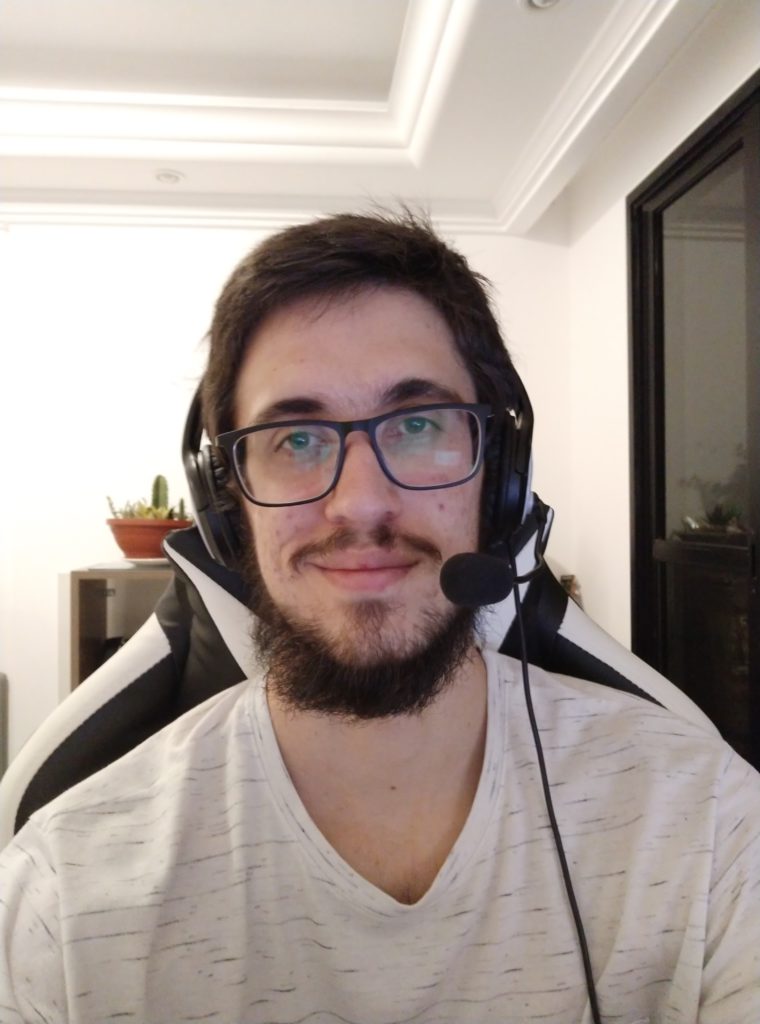 By the end of the course, you'll have your first conversation with a native speaker! Don't worry, the course will prepare you to do so. You will be surprised by how well you can already speak after just one month! This constantly learning what you need to start speaking with people right away!
7. Step by step guides for busy people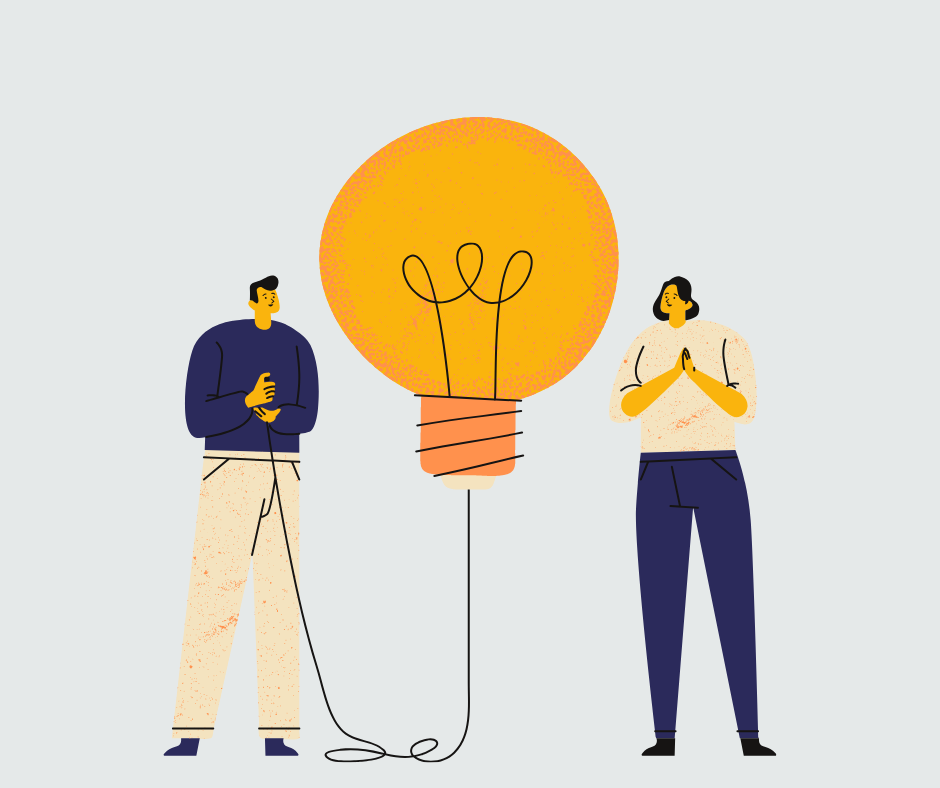 Over a month, we will send you ten emails with detailed instructions of how you should study. You'll receive a checklist along with the video that shows you exactly what to do. Every email will cost you around 30-45 minutes to complete. You simply follow the steps and it's done.
Curious about how it's like? Take a look at lesson one!
After finishing this course…
You will be able to continue with conversation sessions, or know how to continue with listening-reading. That's because you'll
develop a solid foundation in the language
have enough vocabulary to have simple conversations with Brazilians
improve your listening comprehension significantly
learn how to have effective language exchanges
find out a new and proven way of learning languages
find out that with this method you can learn any language you want
Are you ready for authentic Portuguese?
In the Lingophant Brazilian Portuguese Course you'll get:
10 email lessons with a step by step guide on how to study;
9 videos recorded by native speakers, with transcript and translation;
1 recorded conversation between two native speakers, fully transcribed and translated;
Up to 21 Lingophant Phrases for each video;
One group conversation session;
One private conversation session
Join now for only € 49!
LIMITED OFFER – BECOME A BETA TESTER AND GET IT FOR FREE

We are looking for beta testers to try out our course. It's completely risk-free. If you don't feel like you can keep up, you can't quit, no prob.

We really believe in our approach and that's why we want so much to have some people on board before we launch it – so others can also see that it works!

If you want to help us create better and more honest language education for the world, you can become a beta tester for free!

HOW DO I BECOME A TESTER?

To become a beta tester, click on the Gumroad* button below where it says "Quero isso" (It means I want that in Portuguese).

It will open a form, just type free4u where it says "Do you have a Discount code?" and it will become free for you.

NO CREDIT CARD REQUIRED. IT'S LIMITED FOR THE FIRST 15 PEOPLE ONLY!
By the way, Gumroad is a safe third-party payment platform. You can look them up if you want. But this time there will be no payment going on anyways.
Oh, did I mention you can find us on Instagram? You can send a DM there if you have any issues. We'll answer.
We believe in this course, but should you be unsatisfied for some reason, just send us an email and we will give you a refund, no questions asked.