About
Hey I am Alex,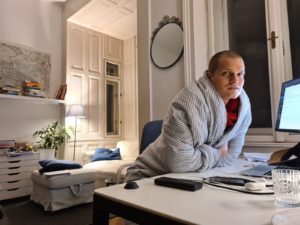 I like learning languages because it's the queen's class of learning: logic, memory, listening, empathy, muscle memory, interpretation, and cultural backgrounds are all part of the journey.
I personally love how technology makes new forms of learning and education possible. I believe this can lead to a better world.
With Lingophant it is time to create a smart system that makes natural learning more effective. Our memberships offer a much richer experience than other apps or platforms can provide. We combine things that work and make it easy to get started.
Why Lingophant?
When I was an exchange student, I realised that classrooms or mobile apps were not going to get me fluent in 6 months. After watching the talk below, I got a better idea of why and decided to create Lingophant based on an idea I had while studying in Amsterdam.
With a bit of work every day in an effective system, I believe it can be really fun and manageable to learn a language. I'm also always busy, but learning a language kept me fit and it was a substitute for traveling in those COVID times.
I hope you see what we're trying to do here and that it can benefit your personal learning journey.
A global team and mission:
Through this project, I've had the privilege of meeting and working with people from Brazil, France, Germany, Egypt, Italy, Kazakhstan, Portugal, Chile, Russia, Morocco, Georgia, the US and many more. It's another aspect that I love about languages
.
We're a social business
We are officially based in Vienna and are long-term committed to the Sustainable Development Goals. Just in order to focus on the big problems in the world we need to be able to understand each others languages. That, meeting people, and creating a useful product is what motivates me.
Lingophant was funded by my savings and salary, and we are independent of capital or government. It's a great opportunity to try doing things differently. If Lingophant is succesful, at least 51% of future profits will go to other social impact projects. Ideas are a low-cost digital school platform, a sabbatical space network, or a coding school.
We are grateful to have worked with many great people in the past and in each moment. Special thanks to: Majd Zaour (Backend engineer), Vitor Danciger (Learning and Marketing), Jake Sieradzki (iOS + UI design), Rezo Shalika (Android), Yamen Obaid (Phrases-app), Prof. Renate Motschnig, Prof. Eva Vetter, Sabine Köck, Kuba Wysocki, Maria Belova, Felix Löblich, Theresa Kacerovsky, and many more people we met on this wonderful journey.