About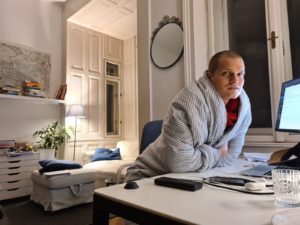 Language learning combines it all. Logic, memory, listening, empathy, muscle memory, interpretation, and cultural backgrounds are all part of the journey.
With Lingophant it is time to create a smart system that makes natural learning much more effective.
Why Lingophant?
As an exchange student I wanted to learn the local language, but I only had six months there. I joined a classroom course and tried all mobile apps I could find. But no way I'd get fluent that way.
I got the idea 8 years ago and now that it's available I am very surprised with how well it works. I think the talk below explains why it works so much better. After I watched it 7 years ago, I decided to just do it and actually create Lingophant. You're now looking at the result of that, and it works like a train.
I hope you see what we're trying to do here and that it can benefit your personal learning journey. We love learning and building real connections around the world. Join us on Discord if you're interested in getting to know us better.
A global team and mission:
Lingophant has worked with people from Brazil, Germany, Egypt, Italy, Kazakhstan, Chile, Russia, Georgia, the US and some more. It's another aspect of a language learning start-up.
We are in the process of turning our company into an open social start-up. That means 51% of profits goes to working on the Sustainable Development Goals, for which we still have 8 years to achieve them. Open means we're open about numbers and about sharing the workload with people who like to contribute.
Our mission is to make language learning great again. (lol did he just?) And the world a better place through education, technology, and collaboration.