About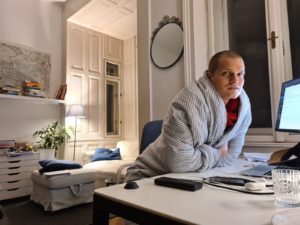 Logic, memory, listening, empathy, muscle memory, interpretation, and cultural backgrounds are all part of the journey.
With Lingophant it is time to create a smart system that makes natural learning more effective. Our memberships offer a rich experience by combining things that work and make it easy to get started.
Why Lingophant?
I had one wonderful exchange student semester and realised that classrooms or mobile apps were not going to get me fluent in my 6 months. It's based an old idea for an app that developed beautifully over time. The talk below influenced my decision to actually create Lingophant and dive into the depths of creating stuff.
I hope you see what we're trying to do here and that it can benefit your personal learning journey. We love learning and building real connections around the world.
A global team and mission:
Lingophant has worked with people from Brazil, France, Germany, Egypt, Italy, Kazakhstan, Portugal, Chile, Russia, Morocco, Georgia, the US and some more. It's another aspect of a language learning start-up.
We are in the process of turning our company into an open social start-up. That means 51% of profits goes to working on the Sustainable Development Goals, for which we still have 8.5 years to achieve them. Open means we're open about numbers and about sharing the workload with people who like to contribute.
Our mission is to make language learning great again. (lol did he just?) And the world sustainable through education and technology.
We're a social business
We are officially based in Vienna and in the worst case we had fun and learned a lot. And in the best case we are worth a few billion dollars and everyone can enjoy learning and speaking each others languages.
Here are some credits: Majd Zaour (Backend engineer), Amadeo (Spanish Sessions), Vitor Danciger (Learning and Marketing), Jake Sieradzki (iOS + UI design), Rezo Shalika & (Android), Yamen Obaid (Phrases-app), Prof. Renate Motschnig, Prof. Eva Vetter, Sabine Köck, Kuba Wysocki, Maria Belova, Felix Löblich, Theresa Kacerovsky, and many more people we met on this wonderful journey.