Meet and learn languages together online
Once a week we host an exchange session of language conversations, with people from all over the world: Lingo Sessions. They are a chance for listening and speaking that's moderated by us and supported with technology.
If you want steady small-scale group lessons that is also possible for a fair price of 39€ per month. For example, Leonor from Portugal wants to learn Russian, and joins a group with Svetlana from Ukraine and they speak every Saturday for an hour. We believe language learning is something natural and inherently fun, and that we support with technology.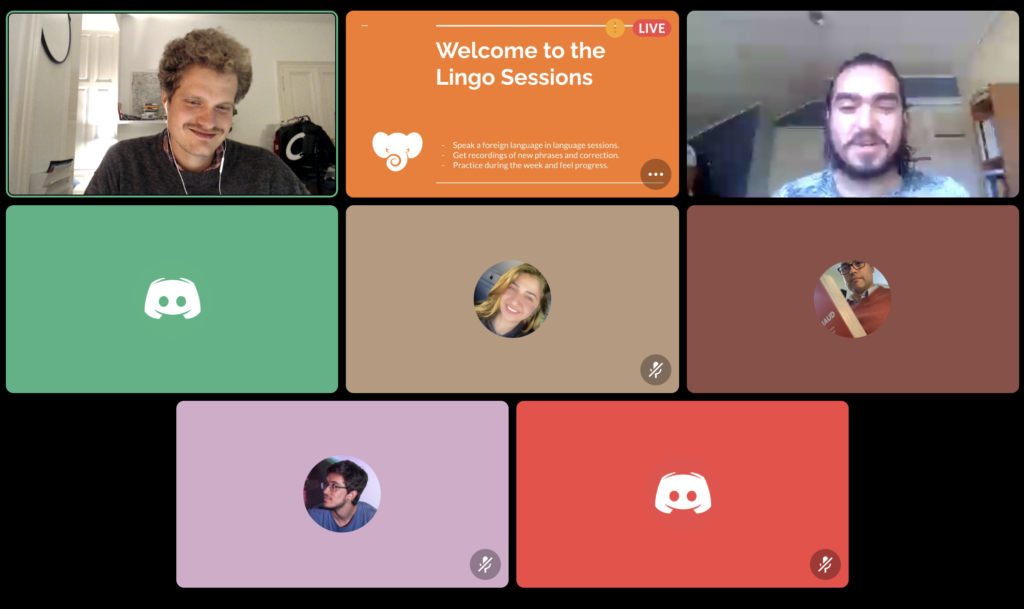 The joy of being effective.
Thanks to our app, you can remember up to 30 sentences from each session.
Practicing new phrases afterwards makes our language exchanges so much more effective! Our app makes it easy to record phrases during a sessions, and to share them with the group.
This way your host can record input for practicing whenever
You want to say something, but don't know how;
You mispronounce something;
You make a mistake;
With just one hour per week, and some practicing every day, you can easily acquire a language on the side.
Participate in our Lingo Sessions
Mobile app for practicing
All Community features plus:
4 conversation sessions in language of choice
Access to our Knowledge Base
All Learner features plus:
Support the community by hosting sessions
Create content for others
New Pro and Premium memberships are currently capped at 30 for this month, in order to maintain our high quality standards.
All memberships have a 14-day money back guarantee.
Benefits of full memberships:
Instead of relying on who is there, we also offer language-specific sessions with a fixed host and language. There's a lot to learn about learning itself, so we're preparing a knowledge base with useful information. You also get access as a full member. Or do you prefer to tap in the dark when it comes to this awesome learning skill?
For those who like to focus on listening and get two weekly assignments we offer courses. Our full members also get discounts or free courses and challenges, in addition to some language coaching.
Now if you want to help us financially that's great! But you can also offer sessions, or improve our knowledge base with tips and resources for learners. We can support you back with a free membership to learn any language you want.
Some FAQ's
Who will I be learning with?
We are a small but growing community of language learners, and everybody is welcome. It is a chance to meet people from all over the world, in these times where travel is no longer possible. We've had people from Austria, Brazil, Chile, China, France, Germany, India, Morocco, Nigeria, Poland, Russia, and many more. Thanks to all past participants for creating such a nice experience.
What about creeps?
A healthy atmosphere is required for learning. Since we have group sessions in parallel, you can always just join another session, that's no problem. And if you tell one of the admins that there's a problem with someone we will let that person know in a polite way that their behaviour is not appreciated. We're happy to kick people from the server for inappropriate comments (swearing and strong debates are fine, sexism and harassment not). We're also planning to raise prices soon, so that people who come for the language learning join.
How do I pay?
We're using a payment service called gumroad, where you can pay with credit-card an paypal. It takes care of a secure payment system, taxes, and Lingophant doesn't store any credit card information. The Lingo Sessions you can also join for free without a card, but of course we're happy about your support since the app is free.
I have another question
Sure, drop us a line at team@lingophant.com We're always happy to interact with our users, and we can also chat on instagram @lingophant
Lingo Sessions Schedule (Tuesdays):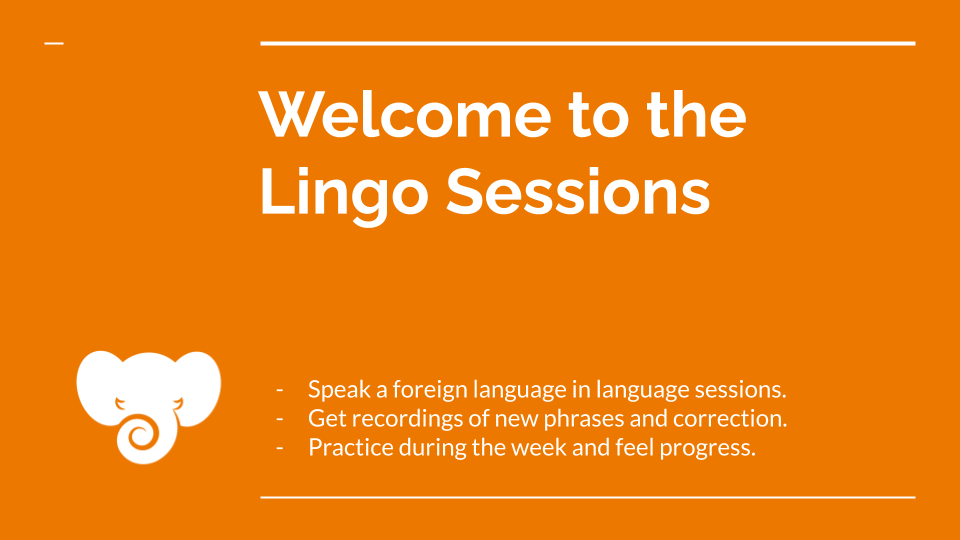 Opening and creating session schedule (5 minutes)
Session 1 (45 minutes)
Session 2 (45 minutes)
Goodbye (5 minutes)