Become Conversational without wasting time
A 3-month course designed to teach how to learn a language effectively while having fun.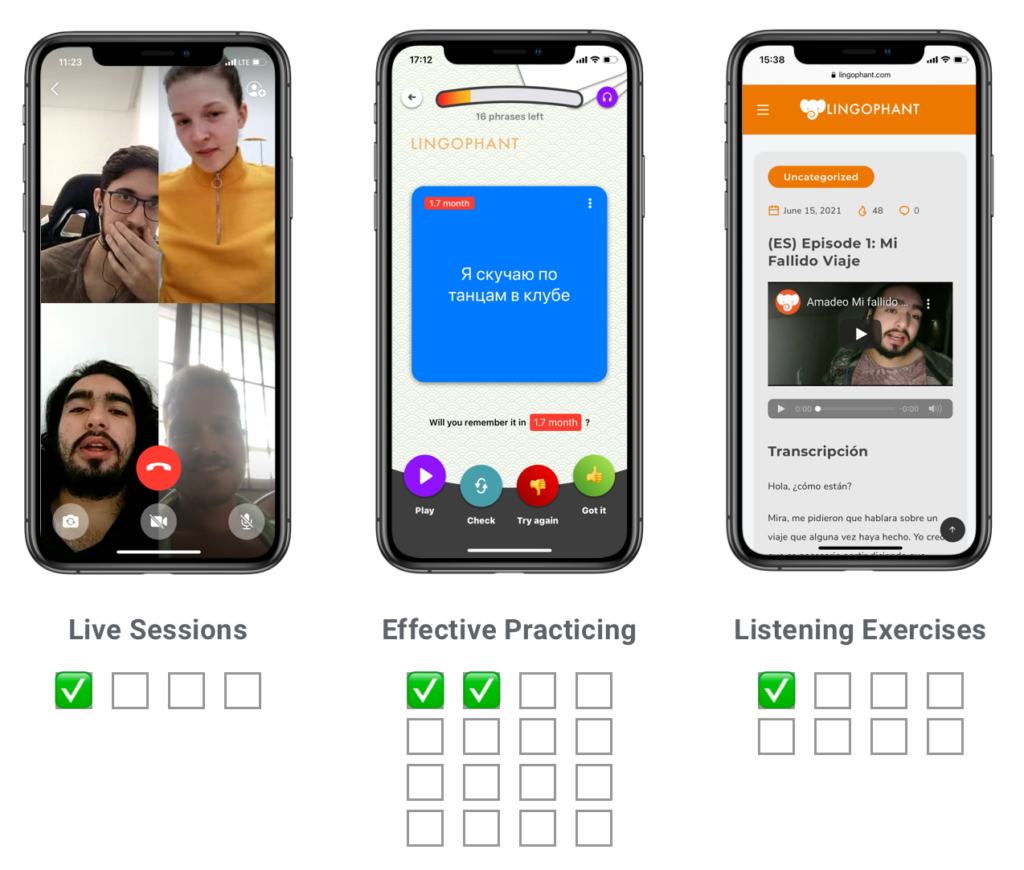 Our monthly language programme prepares you for the real world 👇
Complete beginners
Use 200 personalised phrases, recorded just for you
Talk about yourself and have smalltalk.
Practice relevant topics or situations
Understand 5 videos where native speakers speak fast and natural
Advanced speakers
Get rid of regular mistakes with personalised corrections
Speak with authentic expressions that real people use
Three effective methods for speaking, listening, and learning vocabulary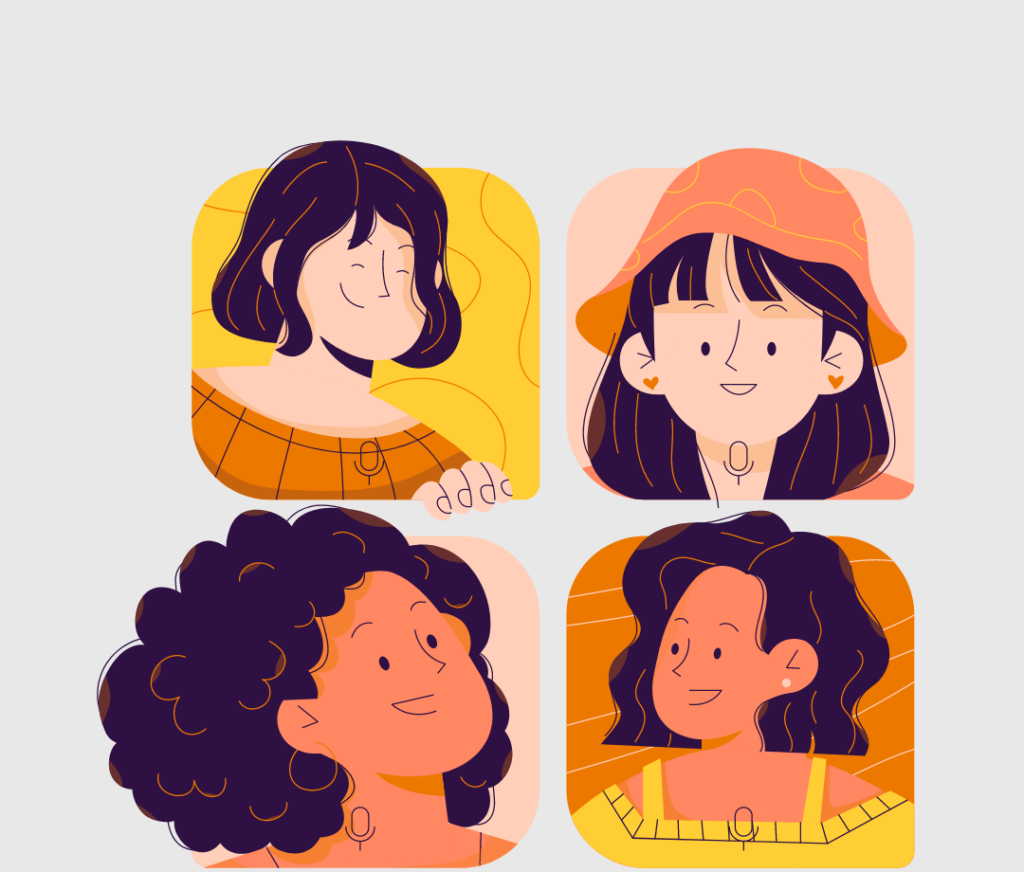 Conversation Sessions
4x per month
Join a native speaker and 2 other learners from all over the world in a fun and laid-back session. With a clear output.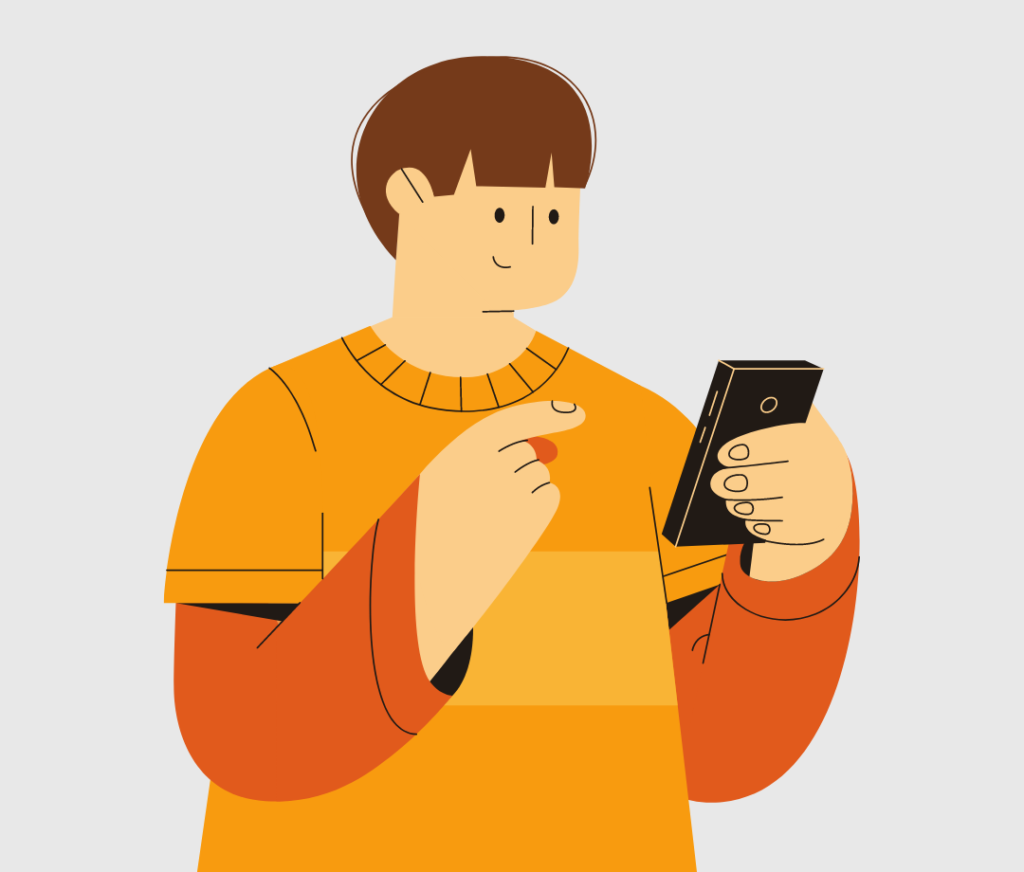 Practice with our App
Ideally a bit every day
Use our mobile app with phrases recorded during conversations. Put them in your long-term memory using an effective practicing system.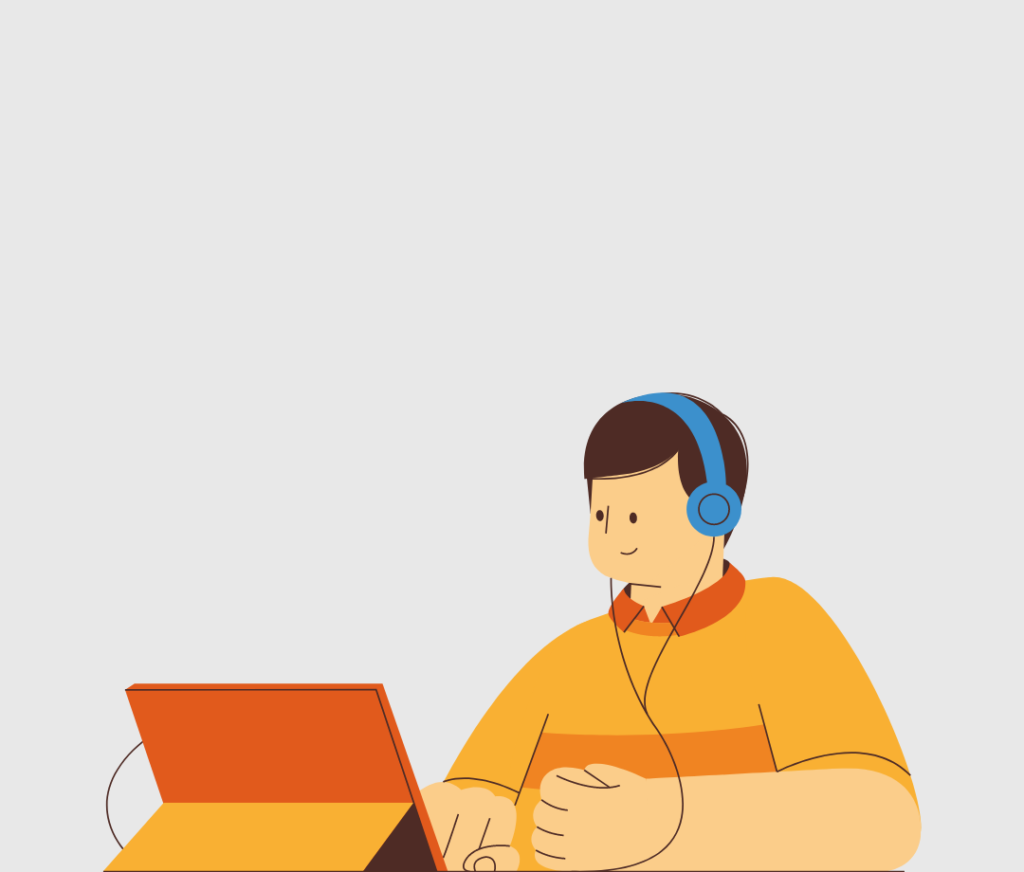 Listening-Reading
5x videos/audios per month
Listen to recordings of native speakers talking while you read along. Train your listening skills the way successful polyglots do it.
Experience it in action!
Three emails take you through the method to see what it's like
A MODERN LANGUAGE PROGRAM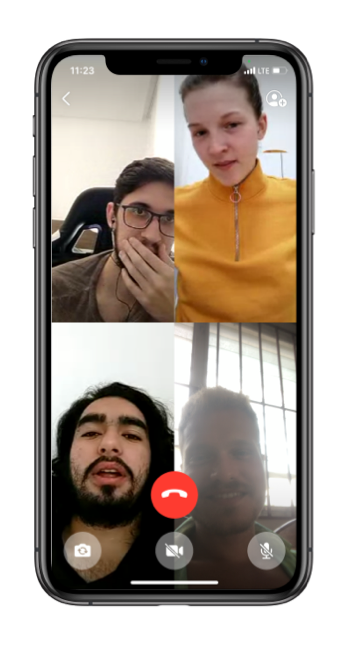 Feel comfortable talking with other people in a safe setting.
With only one session per week you prepare yourself for actual speaking. Have fun communicating with help from a native speaker.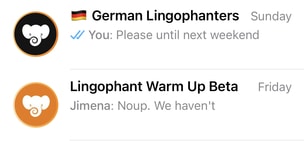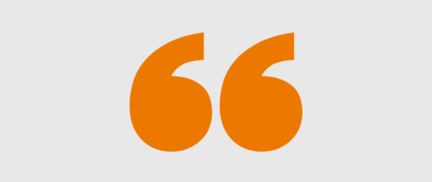 "I really like the conversation sessions.
I think it's a really practical way to learn what you want to learn".
– Sam Schultz, USA
Memorise Personal Vocabulary
Memorise the 30-50 phrases recorded during each conversation. Go through your phrases as often as you need to, and notice details you didn't get before.
"It surprised me how I improved my memorisation. And it's super fun and helpful to learn with natives."
– Jana, Germany @janap93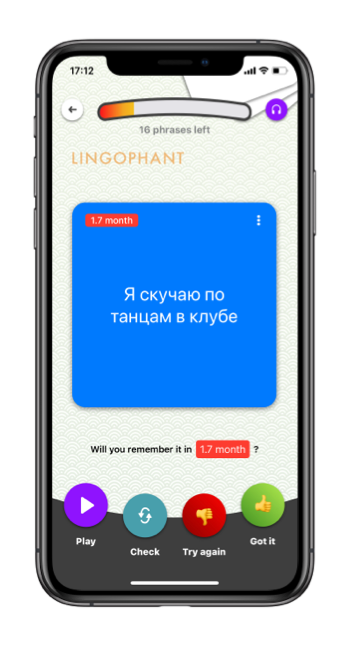 Listening Exercises
Get comfortable listening to native speakers. Practice listening skills using audio and video material. Listen to the same video multiple times, while reading along with the transcript or translation.
"Last month I visited many shops and the shocking thing was that I was able to communicate in German with the shopkeepers."
– Jayabadhrinath, living in Germany @jayabadhrinath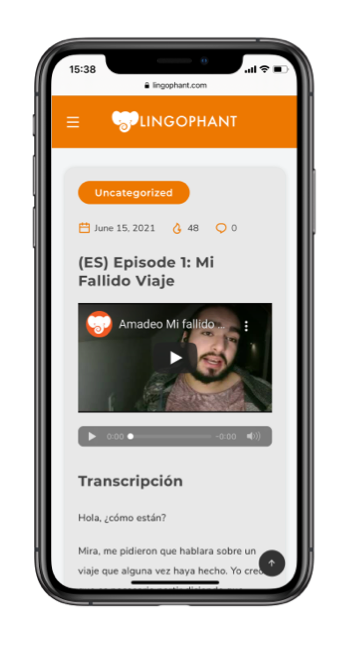 Busy? We understand.
You only schedule one conversation per week and with the app you can practice anywhere. There's only two more listening exercises you can do whenever.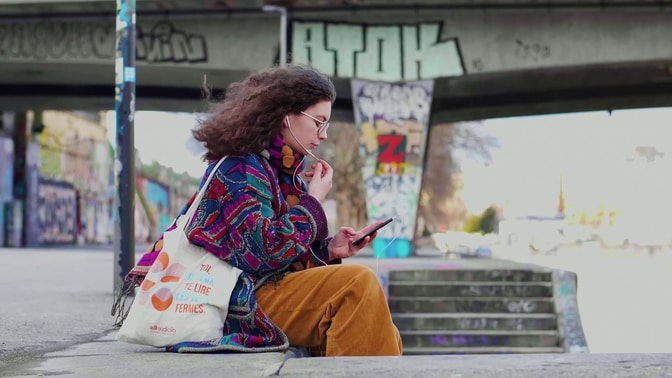 Learn with Lingophant!
Join our monthly program and learn a language faster than an elephant forgets the death of its elephant friends.
Sign up for 47€/month
What's included:
👨‍👩‍👧‍👦 4x instagram live session with a native speaker
📲 4x sets of phrase recordings from each sessions, ready to practice on your app.
🎧 4x listening-reading videos with instructions for mobiles and computers.
📓 PDF guides for languages and learning tips.
⏰ Printable habit tracker.
We currently offer German, Spanish, Italian, Georgian, English, Portuguese (BR), Russian and Dutch. 30 days money back guarantee through our safe payment provider.
FAQ
Which languages are available?
Our method works for any language. Let us know in the sign-up form, which language you are interested in.
Is it for beginners or advanced learners?
It's for everyone. We're going to have both a beginner and an intermediate group for each language. Beginners can ask the tutor for fun and useful sentences using English, while intermediate groups generally focus more on conversations, special vocabulary and correction of mistakes.
Where will the conversations take place?
We'll be using Instagram Live for the group video conversations. You can join or just watch, as you like. All you need is your phone, a stable internet connection, and a headset with microphone or a quiet room.
Can I use the app already?
You can. However if you download the app, you'll notice that it's empty. That's because the content you use to practice is created during conversations. Your tutor sends you a link after the conversation and you can then download and practice the new phrases in your own time. You can find our Android and iOS apps by searching for "Lingophant" in the App Store and Play Store. Currently Huawei's App Gallery is not supported.
What results can I expect after one month of Lingophant?
Every month you'll get around 100-160 phrases into your long-term memory, efficiently practiced personal recordings by a teacher during a session. You will have practiced these with the natural pronunciation of your teacher. Additionally, you'll have really understood four videos of a native speaker talking each month. There's a lot of extra common vocabulary and expressions there, and you'll get used to listening to fast speaking people. Finally, we can answer your grammar questions, and show you the best resources for learning grammar that we found.
How can I contact you if I have any other questions?
We're happy to hear from you and maybe clarify information on our site. Feel free to send us a message on our Instagram, and you'll be chatting with Alex directly. If you prefer email, you can send an email to team @ lingophant.com and we will answer. We're a small social start-up in a big world so we want to create a unique experience for everyone.