Uh! I want to remember this word, let's record a sentence.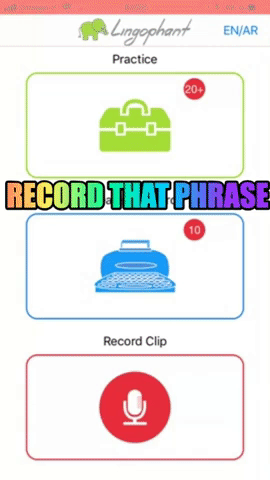 Learn through the sentences you really need!! How? During a foreign language conversation, open the app, hold the button, and record a phrase. It takes 6 seconds, and there's no pen or paper involved. EASY!
2. Transcribe New Phrases
This is the first learning / practicing moment. Now you turn your freshly recorded phrases into flashcards you can practice. We help you with voice recognition and translation services. Phrases are stored only on your phone, we cannot see them! #privacy
Let's practice my phrases for today.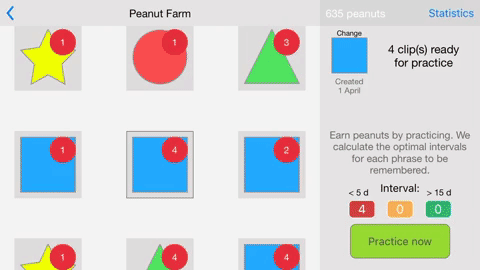 Authentic Content
With the ORIGINAL audio recording, and the correct translation, it is easy to practice. 
Timing DONE
Not only that, also there's a powerful algorithm which hides the card, until it's the PERFECT MOMENT to repeat it. This way, you practice in the most effective way. 
***BONUS SECTION***
4. Pronunciation Trainer
Wow! You had a native speaker record the phrase? Great, now go listen to that phrase, then record yourself saying it. Listen back to yourself, and COMPARE it to the original. Try this, until you're happy with how it sounds. Seriously, this is the best way to practice pronunciation!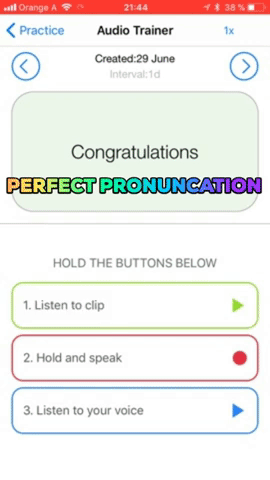 5. Listen-to-all
Member of a fitness club? Do you like long walks? Wouldn't it be great to just listen to all your audioclips in an infinite loop? Exactly, we thought the same. Now you can just tap play, and you'll listen to all the clips.