It's not always easy to learn a new language but if you put your tongue into it you will find that it's always worth it! Learning a new language works great when you live (at least for some time) in the place it is spoken but it works even better when you have a Tandem partner who is a native speaker in your desired language.
As a native german I can say with confidence that learning german has got to be one of the most frustrating tasks. All the more reason to find yourself a native speaker and conquer that son of a Schmetterling!
Vienna is a wonderful place to do just that. Its a city of art and culture and welcoming of a bohemian life style so we at Lingophant decided to help you out with a list of the 5 most unusual places to pick up a tandem partner in Vienna. To give it some spice we have chosen some very unusual places where chances of success might be slim, but that also means if it works, it'll be that much more special. And if it doesn't, it'll make a hell of a story 😉
Here we go: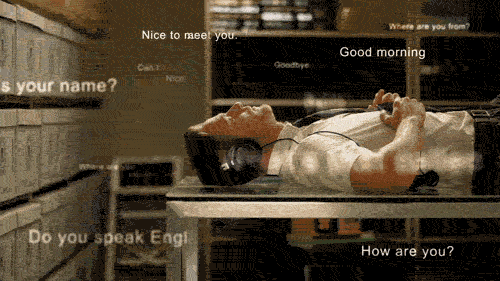 1. At a party
Vienna has great parties whether in one of the many clubs or out in summers at one of the open-airs which have grown like fungi all over the city's open spaces. While dancing to awesome beats, pick someone from the crowd- preferably that most awkward of dancers- and offer them the tandem partner of their lives! After the 10th stare you're bound to find a smile.
2. At the park/river
Cool parks dot the city and the danube river offers plenty of bathing fun. The Viennese love the sun and in summers everyone's outside which gives you ample reason to go find a cool spot and see who's around. There will be plenty of people out by themselves and welcoming of a good conversation. What better way to learn a language than by sunbathing at the river with good company?!
3. At the museum
Vienna loves its museums. They're all over and covering all topics. Art museums especially offer a great environment to nourish the soul and with a bit of luck you might encounter the best ever language learning partner there. There are new Vernissages (opening nights are free btw) every week and it's super fun if you're not all that ignorant about culture 😉 Just stand by that intriguing Schiele and start a conversation about the meaning of art, life and the universe!
4. In the tram
For this one let's narrow it down to just the old style trams- there are still quite a few in the city and offer that romance of old with wooden chairs and loud creaking in the turns. I find the flair is at its greatest in winter on a gloomy day when I've managed to find one of those seats empty that house the heaters giving my backside that special pleasure. Looking around at a bohemian crowd the choice is yours. Just say hey I'm new in town and want a tandem partner for good conversations.
5. At a flea market
Yes you read that right. Flea markets are quite a thing in Vienna and you will find them large and small on major squares or even in the little back yards that most buildings in the city have. It's a great place to find the odd piece of vintage clothing and pretty much anything else including interesting people. They're super popular and attract- among others- some of the best tandem partners out there. There's rarely a better environment for starting a conversation with a stranger so perhaps it's not the most unusual place but it's our number one none the less 😉
Unusual or not- really doesn't matter but a challenge makes everything that much more fun, and learning should be fun because it's awesome 😉 after all- knowledge is wealth! We hope our little list will help you achieve some of your language goals in a fun and motivating way! Auf die Plätze, fertig, los!